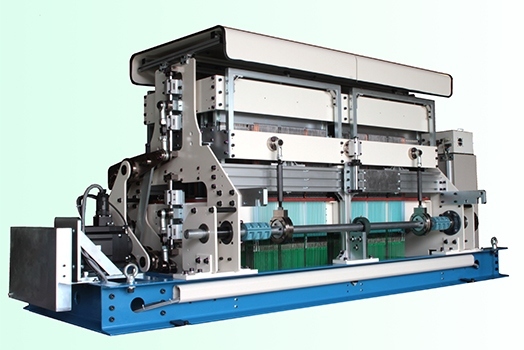 Single Acting Electronic Jacquard AO-EJ
AO-EJ is Single Acting Electronic Jacquard.
CSS has developed high performance and compact Electronic Jacquards.
Correspondent to Bouto and Fumise.
The mechanism of mechanical jaquard has been computerized so that the hook replacement is the same operation as before.
You can choose servo motor drive or cardon jointed drive.
The servo motor drive can eliminate cardon shaft and chain so that the workspace more spacious and safe.
The maintenance is only to exchange of hook and cassette.
The number of hooks can be customized by request.
The weaving speed is up to 180rpm.
* The photos are EJ(2000 needles) with servo motor drive,
EJ(5000 needles), EJ(2000 needles) "the test of Bouto",
the installation status of EJ.
* The installation status can be seen in the video.